Just curious.
Personally...we never do anything with deckers, and it's all for one single reason; the gameplay is absolutely no fun at all.
I'm not saying it's deviating from everything else that's going on so because it keeps everyone else from playing we don't use it.
I'm saying that when I first started playing this game when I was 15 years old (I'm 30 now), we really, really, really loved decking!
Let me back up a second.
Let me tell a story first, so that my exact perspective can correctly be understood.
My child-hood friend and I never played any RPG's.
Well, rather, I had in the past played D&D because well...it was the 80's, but when I was in my teens that had been nearly 5 years since I had played an RPG. At any rate, we played video games, and at the time we only had our SNES but the newest envy was the SEGA Genesis, and one of our other close friends had one.
He was our token counter-culture friend, he new all of the underground bands, he had the internet first, he read all of the great pieces of literature, and he also new this little thing called cyberpunk.
We didn't know anything about it, but one day we were on our way over envying his SEGA Genesis with Battletech, and we showed up to find a silver person with their back to us inside of a grid outlined in blue. The figure was throwing out lightening at strange basic shapes on the screen, and there was a picture of his face, which looked like Snake Eyes from GI Joe an Blood Pool mixed with the Silver Surfer, was on a menu which held digital cards that had images of various action options.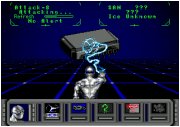 We were immediately hooked.
We continued to love everything about the rest of the game and how much like Bladerunner this whole world was...as if someone made Tron inside of Bladerunner with a dash of Logan's Run thrown in for good taste, but somehow involving the cast of Lord of the Rings.
It was the wildest thing and then we found out that it was an RPG.
Well...I'm fairly sure it's obvious that we bought it instantly by forcing our local baseball card shop to start ordering anything Shadowrun if we pay the shipping, and a fee (keep in mind folks...there was no internet to buy with, and we were teens...on an island in Kodiak, Alaska never-the-less).
I say all that to explain that when we picked up the game and started playing, the very first thing we did was make deckers.
We just HAD to play the RPG version of what was in that smaller-scaled video game.
And then...it just sucked.
Horribly.
It was less than fun, it was like book keeping.
They took what was brilliantly amazing in the video game and sliced it into simulated book keeping and map charting.
Then we realized it was the other way around.
The video game had taking a simulated book keeping and map charting mechanic and somehow repackaged this into something that was vividly brilliant and incredibly active vibrantly.
You thought it was so damn cool to watch someone break through black IC, and you just crapped yourself when some of them popped up on the way to the red node....oh you sweet red node!
I hate to love you...it hurts so much to get to you, but I must have you.
Now...why the hell should we really be OK with letting the matrix continue on with it's lack-luster mechanics?
Why can't we throw ALL of it out and re-do this the way EVERYONE continues to think it SHOULD be done...and I don't mean the way the rules that are there should be done, that's rule fixing.
I mean the way the concept SHOULD have been done to meet up with the impressiveness of and the tenuousness exhilaration of the setting it was.
We can completely stream-line the entire Matrix section into mechanics that are twice as fast as the current mechanics, and a more intuitive interface for the deckers to play with for navigating the matrix as an entirety.
It will take some SERIOUS thinking creatively, and starting at the bottom floor of examining what the core objectives were designed as for the model (what is a decker, what are they for, what is their persona in the Sixth World, what is this Matrix, why is it perceived as something of great awe, why is it feared, how is it a rush to be in the Matrix, what is it like to die in the Matrix, what is their purpose in the group, what do they have to offer to the typical gaming group, how often can that be applied, how is it applicable as often as needed for enjoyment, how is it able to include the group).
Then make sure that we answer every one of these questions, not with fluffy nice black text lacing up nicely clean white pages, but with mechanics that represent these concepts by having the feel of the general attitude of the archetype of the decker, feels like the world of the Matrix itself just in the dice mechanics themselves, is a gamble of perportions so much so a rush in itself to simulate the rush of the Matrix, yet the mechanics tie into the rest of the group or include non-decker members as optionable methods of combined game-play...the decker can use non-decker members in ways inside of the matrix and the members can impact the matrix by interaction via the decker; literally.
Further, the decker can achieve certain levels of multiple instancing with cybered individuals by tapping into their internal cyberware matrix, especially with head gear and things like electronic targeting systems.
Think about it.
The matrix is everywhere....and the world, even today is mobile as hell.
There's nothing stopping, technically, a decker from hopping into the matrix of a smartlink, and from there, if one of the opponents has a smartlink firearm as well, there's nothing stopping them from hopping to that one via their buddy's smartlink...they are going to be sending out some form of sensing beam...which means you could ride the digital stream there and move over to the other smartlink system.
And if they are cybered, then that means you can hop inside the opponent and take a piggy back ride.
Want to plant a bug?
Well...grab your cyber sniper and have him aim an infrared, high frequency electronic sound beam, ultrasound, or otherwise emitter at your cybered or tech-savvy target and let your decker rip.
Decker installed, good to go.
In combat...well...what is there better than someone that fly straight through the thin air and shut down all of the weapons in combat, or lock their safeties on at least through smartlink accesses?
Better still, take out and short out anyone that was cybered up heavily.
It's like an electronic ghost, and you as a cybered person may actually want to think about getting yourself some personally installed cyber matrix defenses...don't really want any deckers poking in at you eh? Ever wanted to watch a skillsoft program kill someone?
Yeesh...not a pretty site.
By the way...one could easily accomplish something like this for the Astral concepts of the game as well.
Every person around could easily have an Astral plane and/or Matrix plane around and inside of their actual person.
The Astral is their essence...the spiritual existence of all humanity and metahumanity, and thanks to technology a very large amount of man will also have the digital plane of the Matrix either on their person or inside of their body.
Man is a literal combination between Atrificial Reality and Ethereal Reality.
If you have an Astral Combat mage, a Decker, Cyberwarrior, and Rigger in your party...you are directly deadly to the enemy.
You have the Astral Combat covered, so you can attack them Spiritually.
You have the Matrix Combat covered, so you can attack their Cyberware and Electronic equipment.
You have the Physical Combat covered, so you can attack their Body.
You have the Transportation and Robotics Combat covered, so you can attack their support.
No support.
No cyberware or electronic equipment.
No body.
No spirit.
You win.
Because you have the cyberware, equipment, body, support, and you have the spirit.
I always thought it would have made perfect sense if a Decker and a Rigger were able to work side-by-side inside of a car to a great extent like two workers on a construction yard.
I also thought the Mage/Shamman should have been able to work side-by-side with the Decker inside of people.
And this means you can start combining player characters into one player character even.
A decker a mage could both be in the street samurai.
See, the more essence a character has, the more vulnerable they are to the mage and less vulnerable they are to the decker (aside from their external gear), and the less essence they have the more vulnerable they are to the decker and less to the mage.
The principle reason that deckers and astral mages blow is becuase their interaction with the other members of the game is quite minimal.
The former is by far less interactive than the latter.
And that's why I'm saying...Why not just redesign everything from the ground up and fix THAT; as opposed to working on the rules that are already there that work from the angle of erroring on that concept from conception.